Description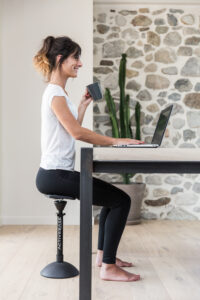 Your body is meant to move. It's not meant for sitting (or standing) for hours on end. It's proven: a sedentary lifestyle can wreak havoc with your health, posture and productivity. So, what do you do when you have deadlines to meet and chores to complete?
Active sitting. It's the smartest way to sit. Unlike traditional chairs that confine your movement, active chairs keep your body moving and your mind engaged.
I've sat down and done extensive homework to identify THE best sitting solution for a healthier lifestyle. Active Base™ is the clear winner. Unlike swiss balls, knee seats, standing desks and typical ergonomic chairs, ActiveBase™ is a comfortable, lightweight, sturdy and stylish proprioceptive chair that comes with a host of health and wellness benefits. It's no wonder this multi-award-winning chair gets the seal of approval from osteopaths, chiropractors, mind-body experts and more.
Why ActiveBase™ is the smartest sitting solution.
Say goodbye to poor posture and debilitating back pain. Equipped with a dual adjustable mobility system, ActiveBase™ gently aligns your spine, activates your core, and awakens your ability to concentrate and learn.
The first system is located under the seat and allows for natural movement from your lower back to the top of your head. The second is positioned at the base of the seat allowing for mobility from your bottom to the tips of your toes.
The results? Movement. Energy. Focus. Improved blood circulation and more.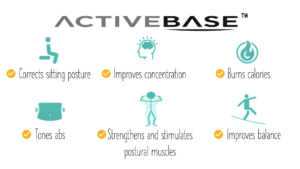 Create your own version of the image.
Endorsed by Healthcare practitioners
Radios taken in collaboration with the radiological center of the Belledonne clinic.
After a global analysis on a naked subject of physiological curvatures, we distinguish a harmonious play of the three cervical, thoracic and lumbar segments.
The X-rays taken highlight the mobility of the lumbar spine and pelvis with a lateral inflection to the right and left with work on the ACTIVEBASE (here: we released the kneecap system under the seat to create a slight upper instability).
The induced imbalance of the pelvis is controlled by the action of the stabilizing muscles of the pelvis, contributing to their strengthening.
Important information
To reduce the risk of serious injury, read all precautions and instructions in the manual before using it. ACTIVEBASE SAS and Jon In Motion assume no responsibility for personal injury or property damage sustained by or through the use of this product.
Suitable for person with a maximum weight of 100kg and minimum height of 135 cm.
All parts are replaceable
One-year warranty (the warranty does not cover normal wear and tear)